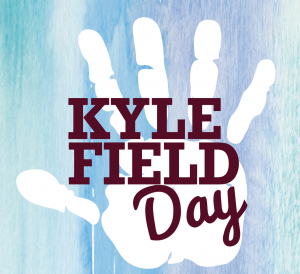 Kyle Field Day (KFD) is a one day service event held in the concourse of the one and only Kyle Field. For the past 10 years, thousands of participants and hundreds of organizations have come together for a one day event serving not only the Bryan/College Station community, but also communities across the state and further!
This year, Kyle Field Day will be held on the NE corner of Kyle Field on April 11th, 2021 from 12pm-3pm. There will be 22 service projects present that will be hosted by organizations from across the Bryan/College Station area and beyond. Entry is free, and volunteers of all ages are welcome to come out and #shareyourservice. Come for the food trucks and live entertainment, and stay for the opportunity to take part in service.
Stay up to date with what Kyle Field Day is doing by following our social media accounts! @kylefieldday on Instagram and Kyle Field Day on Facebook.
Kyle Field Day Entertainment 2021

12:10 – 12:25 pm

Ballet Folklorico Celestial performs on plaza

12:30 – 1:15 pm

Oliver Penn performs on plaza

12:45 – 1:05pm

Apotheosis performs in concourse

1:15 – 1:30 pm

Aggie Wranglers perform on plaza

1:30 – 2:15 pm

Luna Luna performs on plaza

2:05 – 2:25 pm

Femmatas performs in concourse

2:20 – 2:40 pm

Maroon Prestige performs on plaza

2:40 – 3:00 pm

Aggieland Mariachi performs on plaza
Participating Organizations for KFD 2021

Medical Bridges

LGBTQ Aggies

Mobility WorldwideBrazos Valley

RISE with The Women's Bakery

Save Our Streets Ministries

Engineers Without Borders (EWB)

BUILD

Starlight Aggies

Morph

ChildreNiños Bilingual Education

Aggie Fish Club (AFC)

MSC Hospitality

LEIAS

Isaiah's Place

Good Shepherd Rehabilitation Network

Aggies For Limbs

Creating Optimistic Outlooks on Learning

Howdy Farm

Progressively Reaching Excellence in Professionalism (PREP)

Aggieland Growing Through Selfless Service (AGSS)

Freshman Leaders Advancing in Service and Honor (FLASH)

Freshmen Leading in Acceptance, Kindness and Equality (FLAKE)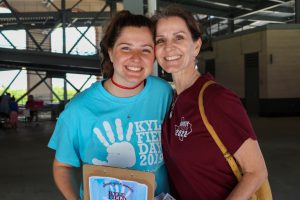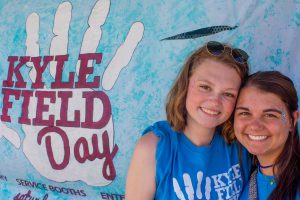 The service done at KFD can be broken down into two types of projects, booth projects and anchor projects. Booth projects are smaller-scale, with examples being crafting ornaments or making blankets. Anchor projects are larger-scale, with examples being painting a picnic table or putting together a doghouse. Past KFDs have included live music, appearances from special guests such as Yell Leaders and Reveille, food trucks, and other activities to guarantee a day full of service and fun. The Kyle Field Day experience is one you won't forget!